Pipers Ridge Owners Association, Inc.
P.O. Box 471, Conover, North Carolina 28613 pipersridge@gmail.com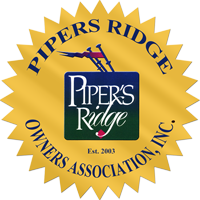 Protecting Your Investment in Pipers Ridge.
You chose to buy a home at Pipers Ridge because it is a pretty, well-maintained community with a sense of style. The job of the HOA is to protect your investment and the quality of the community. The Owners Association is a volunteer group of property owners like yourself. You and the HOA can do what an individual homeowner can't always do. When you come to us for help, we can put the strength of the
Owners Association
to work for you. Together, we provide a unified and respected front at City Hall and elsewhere. We're stronger than any homeowner acting individually.
Day to day responsibilities of the HOA include maintaining the common areas, making sure all insurance and other HOA bills are paid, paying for the street lights (which are not paid by the city,) beautifying the common areas, including the entrance, conducting meetings, working with the attorneys, collecting Association dues, and making sure covenants and restrictions are respected by all of our homeowners.
Payment of HOA dues, and adhering to the restrictions set forth in the Covenants, Conditions & Restrictions, is a
legal obligation of all homeowners who choose to live in a HOA community
such as Pipers Ridge. Collection of these dues and assessment of fines and penalties is the legal obligation of the HOA's Board of Directors.
It's that simple: It's the Law. The Association can, and will, assess fines and file claims of lien against property owners who ignore our restrictions and lower the quality of our neighborhood and home values. In extreme cases, the HOA can foreclose upon and take possession of the property.
The board is elected about once every year. We conduct one or 2 meetings per year and encourage all residents to attend.
Call the Association anytime at...
828-615-8665
pipersridge@gmail.com